Almond Flour Banana Pancakes are light, fluffy and delicately flavored with bananas. They have a wonderful nutty flavor, easy to make and packed with protein.
We love using this nutritious flour in making breakfast recipes. Some of our favorites include Carrot Cake Muffins or Banana Muffins.
As an Amazon Associate and member of other affiliate programs we earn a small commission from qualifying purchases through our affiliate link. For more information read our Non-Disclosure Agreement.
Almond Flour Banana Pancakes
There's nothing like a delicious, fluffy stack of pancakes on weekend mornings! Not only the bananas add flavor, but also adds moisture and natural sweetness. These are sure to be a hit with the whole family!
These are totally grain free, gluten-free and dairy-free (made without milk), but it's just as good as any traditional flapjack. They are soft, tender with a delicious sweet and nutty flavor.
Since they aren't too sweet, they are perfect for add-ins like chocolate chips for the kiddos and is a perfect vehicle for some warm maple syrup. If you are a waffle lover, then check out these almond flour waffles recipe.
WHY YOU'LL LOVE THESE?
We love them because these are easy, delicious and packed with nutrition.
Fluffy, Tender – They have the perfect texture.
Easy to make – A super simple recipe and comes together in minutes. No whipping egg whites.
Mildly sweet – Bananas and ground cinnamon adds natural sweetness. A bit of brown sugar accents the sweetness without making them too sweet. Feel free to skip the brown sugar.
Filling – They are more substantial than regular ones, so they'll keep you full until lunchtime.
Healthy – Packed with healthy fats and fiber, vitamin E, protein from eggs and vitamins and minerals from the fruit. They also do not contain any added butter or oil.
Diet friendly – Naturally gluten-free, dairy-free, low carb and grain-free.
CAN I MAKE THEM WITHOUT EGGS?
Since they do not contain gluten, it needs more eggs for binding and tends to fall apart if made without eggs. They also adds fluffy texture. So, we do not recommend making them without eggs. Try our hugely popular eggless pancake recipe for an egg-free option!
CAN I USE OLD BANANAS FOR PANCAKES?
All the natural sweetness comes from the fruit, so these are best made with old ones. Look for lots of brown spots and that feels soft to the touch. Looking for muffin recipes to use over ripe fruits? Try Air Fryer Banana Muffins, Mini Banana Muffins or Eggless Banana Muffins.
How to ripen them faster? Place fruits in a brown paper bag and loosely fold the top along with an apple. The ethylene will build up and enhance ripening in about 24 hours.
WHY ARE MINE FALLING APART?
These are delicate since there is no gluten. The eggs play a crucial role in binding the ingredients. Make sure to not skip them and use large size eggs. Also, be sure to flip them over very carefully to avoid breaking them.
INGREDIENTS
You need only few simple basic ingredients to make this breakfast recipe. Here's and overview of what you'll need, look for exact measurements in the recipe card below.
Almond flour: It is essentially just ground almonds, make sure to specifically use super fine variety.
Banana: Use very ripe fruits for natural sweetness and more flavor.
Egg: Four large eggs is all you need to bind the ingredients together, add moisture and make these fluffy. It also adds protein.
Cinnamon – It complements the nutty flavors, but is optional.
Baking powder: It gives lift and helps them to puff up.
PRO TIPS
Cook over low-medium heat, so they cook evenly and have a lovely golden color without getting burnt and cooked through.
Make sure to use flour and not meal for a light texture.
Almond flour is widely available in all major US grocery stores and Amazon. I buy mine from Costco and store in the refrigerator for a longer shelf life.
Optional pancake mix-ins
They're versatile! Feel free to use any of the following add-ins to customize.
Semi sweet chocolate chips (use mini chocolate chips, if possible so they distribute evenly).
Blueberries (fresh or frozen)
Toasted chopped pecans or walnuts
Vanilla extract.
TOPPING IDEAS
Toppings are the best part! Here are some of our favorite ideas:
Maple Syrup or Pancake Syrup.
Softened salted butter.
Peanut butter or Almond butter.
Sliced bananas.
Chopped candied pecans or caramel walnuts.
Make into a dessert and top with whipped cream, Nutella and toasted sliced almonds.
Sweetened greek yogurt.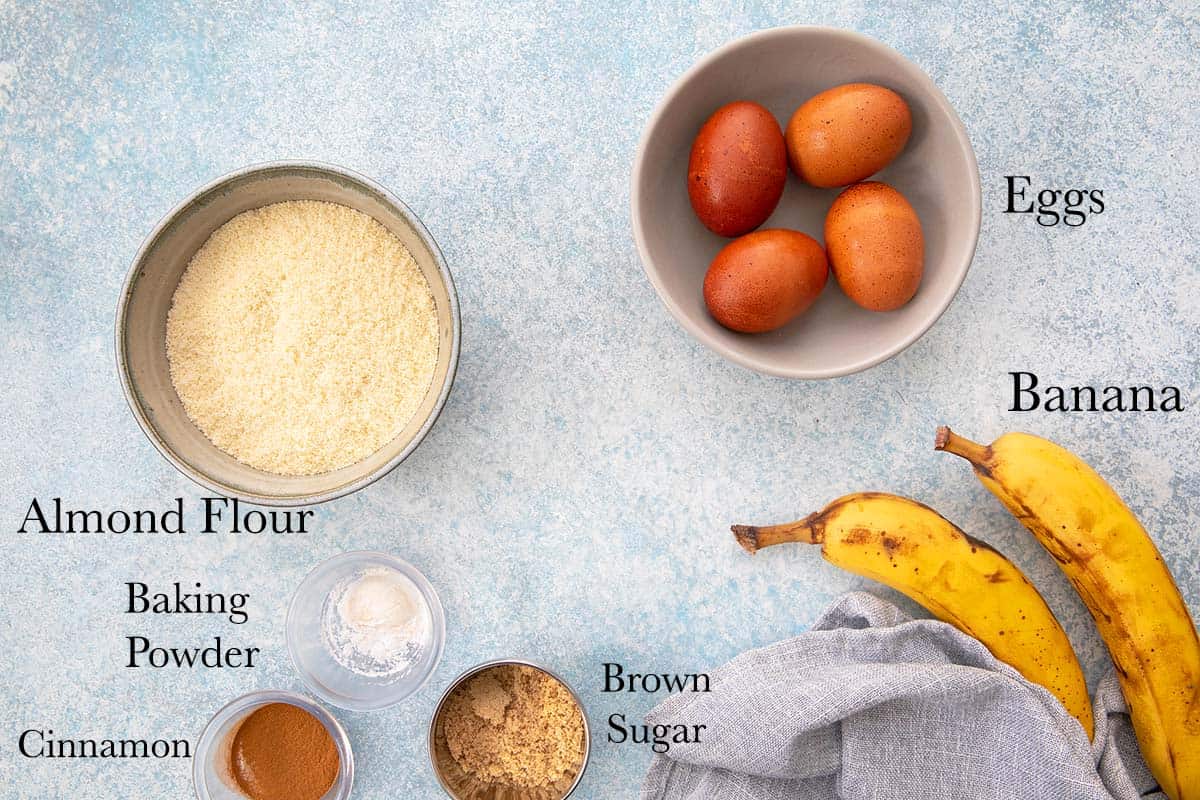 HOW TO MAKE?
This is a simple and easy recipe that does not include any whipped eggs. So, all you need is a bowl and whisk.
Whisk dry ingredients – Add almond flour, baking powder, brown sugar, ground cinnamon and salt in a bowl and whisk to combine.
Whisk wet ingredients – Mash 2 bananas until smooth and mix with eggs, until completely smooth.
Finish batter – Mix wet ingredients into the dry and stir until combined.
Cook – Make flapjacks over medium to low heat, until the golden brown in color in both sides.
How to keep them warm?
To keep them warm, place on a wire rack set over a baking sheet in a 200 degree oven, until ready to serve.
HOW TO SERVE?
These are hearty and make a delicious breakfast just topped with maple syrup or dress them up with whipped cream.
They are also fantastic for brunch or a special breakfast. Pair them with healthy smoothies, omelette, baked oatmeal, muffins or waffles.
HOW TO STORE?
Refrigerate cooled pancakes in a sealed container for up to 3 days.
To reheat:
Microwave – Place on a microwave safe plate and cook in 50% power for 30 seconds to 1 minute.
Air Fryer – Place on a pre heated 320 degree air fryer and cook for about 1 to 2 minutes (flipping once halfway). This is great way to make them crisp around the edges.
Oven – We like to use oven when reheating a larger number. Place on a single layer on a baking sheet and heat until warmed through in a pre heated 350 degree oven.
HOW TO FREEZE?
Place them on a baking sheet in a single layer and place in the freezer for 30 minutes, then place them in zip lock bags and freeze for up to 2 months. Once ready to reheat, simply microwave for 30-60 seconds or until warm.
More recipes using bananas: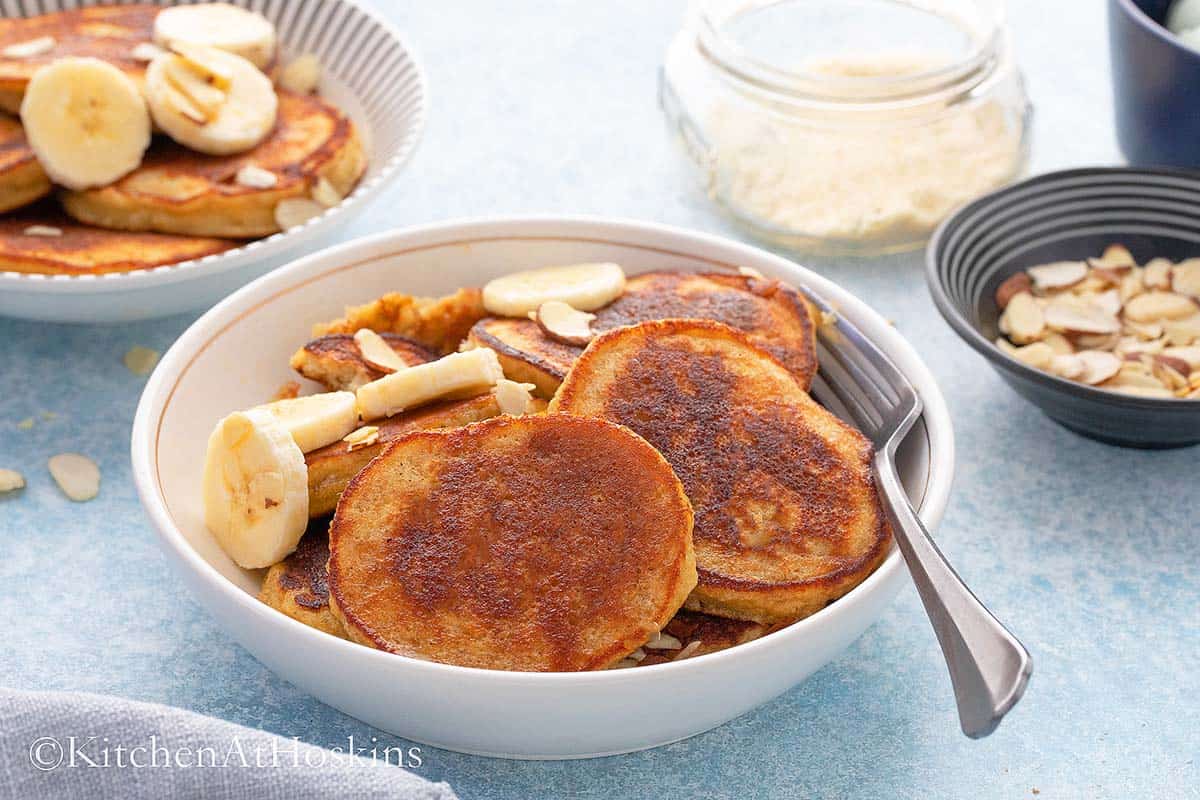 FREQUENTLY ASKED QUESTIONS
Can I use regular flour?
Unfortunately, NO! This recipe is created only to work with almond flour. So, I would not recommend using regular flour or any other flour.

Are they gluten free?
Yes! They are naturally gluten-free, since they are made with ground almonds.
Can I omit sugar?
Since these are primarily sweetened with banana, you can omit the sugar in the recipe if desired.
Love all kinds of Pancakes? More to try:
Follow me on INSTAGRAM, TIK TOK, FACEBOOK or PINTEREST for more delicious recipes.
Almond Flour Banana Pancakes
Almond Flour Banana Pancakes are light, fluffy and delicately flavored with bananas. They have a wonderful nutty flavor, easy to make and packed with protein.
Ingredients
Dry Ingredients
1 tablespoon sugar (brown, white or coconut)
1 teaspoon baking powder
1/4 teaspoon salt
Wet ingredients
4 eggs, large
1 cup mashed bananas (about 2 medium)
To Serve
Instructions
Whisk all dry ingredients in a medium bowl.
Add eggs and mashed banana into a larger bowl and whisk until very smooth. Stir in the dry ingredients.
Coat a non-stick pan with melted coconut oil / butter / cooking spray and place over medium heat.
When hot, reduce to low-medium. Pour 1/4 cup measure of the batter into the hot pan. Cook for about 3 minutes (or until the bottom is deep golden in color). Flip pancakes and continue cooking for further 2 minutes.
Repeat the process until all your batter has been used. Serve hot with maple syrup and your toppings of choice.
(These pancakes tend to brown faster than regular pancakes. So, make sure that the heat is always low-medium)
Notes
Cook over low-medium heat, so they cook evenly and have a lovely golden color without getting burnt and cooked through.
Make sure to use almond flour and not meal for a light texture.
Almond flour is widely available in all major US grocery stores and Amazon. I buy mine from Costco and store in the refrigerator for a longer shelf life.
Nutrition Information:
Yield:

3
Serving Size:

1
Amount Per Serving:
Calories:

614
Total Fat:

44g
Saturated Fat:

5g
Trans Fat:

0g
Unsaturated Fat:

37g
Cholesterol:

248mg
Sodium:

435mg
Carbohydrates:

39g
Fiber:

12g
Sugar:

17g
Protein:

25g
I am not a certified dietician or nutritionist. The information is a product of online calculator such as Nutrifox.com, although Kitchen at Hoskins attempts to provide accurate nutritional information, these figures should be considered estimates and not be construed as a guarantee. Varying factors such as product types or brands purchased, produce, and the way ingredients are processed change the nutritional information in any recipe. Furthermore, different online calculators provide different results depending on their fact algorithms. Under no circumstances will Kitchen at Hoskins be responsible for any loss or damage resulting for your reliance on the nutritional information. To obtain the most accurate nutritional information in a given recipe, you should calculate the nutritional information with the actual ingredients used in your recipe, using your preferred nutrition calculator. You are solely responsible for all decisions pertaining to your health and ensuring that any nutritional information provided is accurate.
Did you make this recipe? I'd love your feedback! Please let me know by leaving a comment or review below or snap a photo and share on Instagram.
All contents and images are my original work, unless and otherwise mentioned. Please do not use my recipes or images without linking back to www.kitchenathoskins.com. If you wish to republish a recipe, please rewrite in your own words and don't forget to include a link back to the original recipe.
Some of the links above are affiliate links, which pay me a small commission for my referral at no extra cost to you! I am a participant in the Amazon Services LLC Associates Program, an affiliate advertising program designed to provide a means for us to earn fees by linking to Amazon.com and affiliated sites. Thank you for supporting kitchenathoskins.com.