Coconut Chia Pudding is thick, creamy and tasty! It is healthy, high in fiber and makes a perfect breakfast, dessert or snack.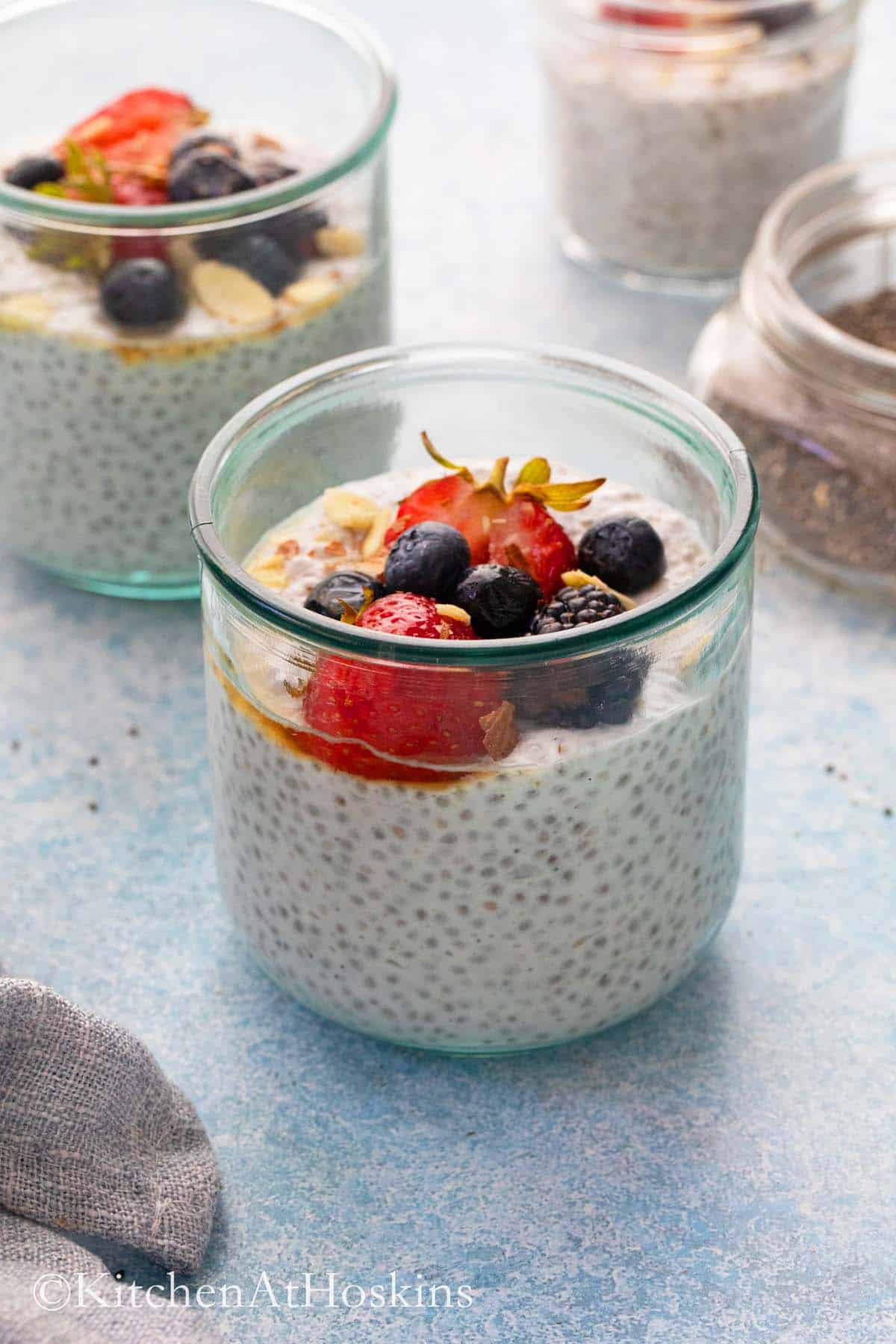 Luscious coconut chia pudding is amazingly thick and creamy, and excellent topped with your favorite fruits of the season. It will leave you filling and is the treat on a hot summer day like the mango milk.
Coconut milk is perfect to use for creamy dairy-free recipes because it's rich, naturally sweet and full of fresh coconut flavor.
Coconut milk is a key ingredient in curries, rice, soups and sauces in southeast Asian cuisine. My favorite way to use is in coconut curry shrimp, Thai carrot soup or even in pasta dishes like pasta with tomato cream sauce, to make it healthier by replacing heavy cream with coconut milk.
It's believed that chia seeds are native to Central America and was a staple in ancient aztec diet as early as 3500 BC. Later, it was grown in Mexico by the Teotihuacan and Toltec people. It was used in medicine, ground into drinks or pressed for oil. (Find more details here)
The seeds does not have any flavor on their own and they absorb 10 times the weight in liquid to create a pudding-like texture like in mango chia pudding.
As for the texture, it's like a thick tapioca pudding with some texture from the seeds. You can even blend the mixture in a blender until smooth, to give a creamy mousse consistency, like in chocolate avocado mousse.
These tiny yet mighty super seeds are loaded with anti-inflammatory omega-3 fatty acids and other nutrients that add a major boost to your diet and they are better consumed soaked.
Jump to:
Why you'll love this recipe?
A simple stir and chill recipe.
Ultra thick, creamy and luxurious texture.
It's vegan, gluten and dairy free.
Boosts amazing health benefits, more information here.
Ingredients
Scroll down to the recipe card below for full information on ingredients and amounts.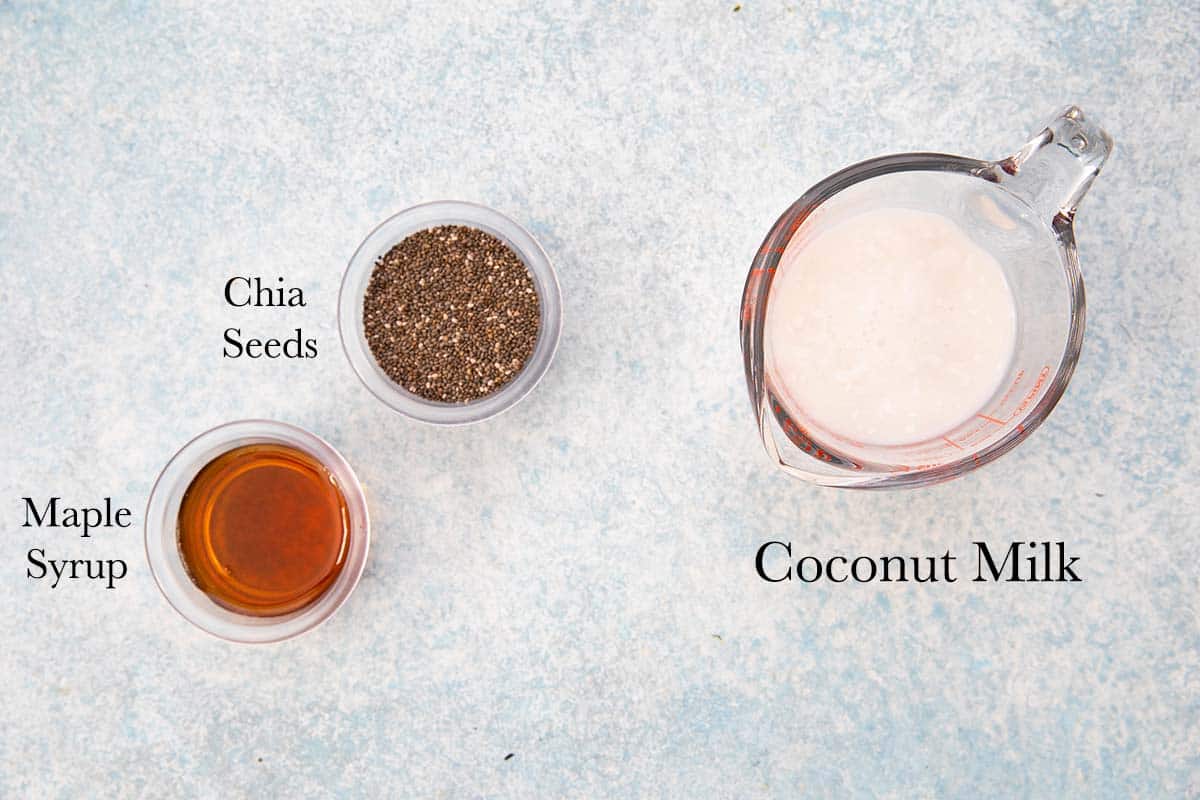 Chia seeds - Use a combination, all black or white for this coconut chia pudding recipe. Make sure that the seeds are not old.
Coconut milk - Coconut milk is the liquid extracted from the meat of a mature coconut. You can find regular and light canned milks available in the stores. Light milk is just regular fat milk thinned down with some water. Although either will work, regular fat makes the creamiest pudding and also thickens faster.
Sugar - Maple syrup makes it healthy and vegan. Other sweeteners like honey, agave or sugar will make great substitutes.
Flavorings - I love the magical combination of coconut and cardamom like in baked mangoes.
Pro tip: Make sure that the seeds aren't old to ensure optimal thickening.
Substitutions & Variations
Replace coconut milk with other milks, such as regular cow's, almond, oat or cashew milk.
Use other flavorings like vanilla extract, ground cinnamon, almond extract or ground nutmeg instead of cardamom.
Top with toasted and chopped nuts such as almonds, pecans, cashews or macadamia nuts.
How to make?
You can find full printable recipe below, but here is a quick overview of the procedure along with step-by-step photos.
1.Add chia seeds and maple syrup into coconut milk.
Pro tip: Stir the can of coconut milk before using! When you crack open a can, you might see a thick solid cream on top and much thinner white liquid separated in the bottom. Because coconut oil solidifies at room temperature, the thick coconut cream, with the less dense oil rises to top leaving a thin opaque liquid to settle in the bottom.
2.Add freshly ground cardamom powder and salt.
Tip- Don't be afraid to salt! A scant pinch of salt makes the flavors pop and makes it taste amazing.
3 & 4. Mix all ingredients, let sit for 5 to 10 minutes, stir again to avoid clumping, close jar with lid and chill in the refrigerator for at least 6 hours.
Pro tip: Upon testing several times, I found that 2 and ½ tablespoons chia seeds was perfect for 1 cup coconut milk. Too much liquid will result in a not-as-thick consistency whereas too less liquid will end up in a crunchy gel. You might notice that this recipe needs a little less seeds when compared to other online recipes. That's because coconut milk is much thicker in consistency, when compared thinner almond or regular cows milk.
How to serve?
Ideally, this is best served cold straight from the fridge. However, it can be enjoyed hot as well. If you want to eat it warm, then heat in a microwave, until lukewarm as you would with oatmeal.
The fun begins with the plethora of toppings that you can use. Here are a few delicious topping ideas:
Fresh strawberries, raspberries, blueberries or blackberries.
Combination of chopped fresh pineapple and shredded coconut like the pina colada smoothie recipe.
Sliced banana and toasted almonds.
Chopped fresh ripe mango.
Top with your favorite fruit jam.
Chopped toasted almonds, cashews or macadamia nuts.
Chopped fresh cherries.
Mini chocolate chips or shredded chocolate.
Your favorite granola.
How to store?
Store coconut chia pudding in the refrigerator for up to 4 days in a sealed jar or container. It can also be frozen for up to a month. Leave overnight in the refrigerator to thaw.
Helpful tips
Cardamom – Use freshly ground cardamom instead of store bought cardamom powder.
Mix twice - Mix again after 5 minutes to avoid clumping and then refrigerate for a few hours.
For the perfect texture, place in the fridge overnight to set so the chia seeds really have time to expand.
Use your favorite sweetener like honey or sugar.
Coconut milk - Use regular or light can.
Salt - A scant pinch of salt elevates the taste.
Make single serving - Divide set coconut chia pudding in small mason jars, top with your favorite topping and store in the refrigerator for a quick grab and go single serving snack any time.
How's coconut milk made? The white flesh of mature coconuts are grated, ground with water and then squeezed through a strainer, such as a cheesecloth, to extract the thick white liquid.
Recipe FAQs
Are you supposed to chew chia seeds?
They are supposed to be chewed. Since they can absorb liquid 10 times their weight, chewing the seeds thoroughly will help in digestion and prevent them from expanding in your throat.
How long does it take to thicken?
The seeds begin to absorb the liquid almost right away. We like give it a stir after about 5 minutes to avoid clumping up. The coconut chia pudding is then refrigerated for at least 4 hours to overnight. If you are in a rush, then you can eat in about an hour or so.
How do you know if your chia seeds are fresh?
Fresh chia seeds have a mild flavor and also smell a bit nutty. Although the healthy oils in the seeds are actually good for you, it also causes the seeds the eventually oxidize and turn rancid.
It might have passed the expiration date, if see any lumping or mold. Open the jar and give a shake test. If you notice that the seeds stick to the walls after a good shake, or most of them stuck on the bottom, throw them away. Also, if you take some seeds by hand and find them slimy or sticking to your fingers, it might be a good idea to toss them out.
More no cook breakfast recipes
Hungry for more? Follow me on Instagram, TikTok, Facebook or Pinterest for more delicious recipes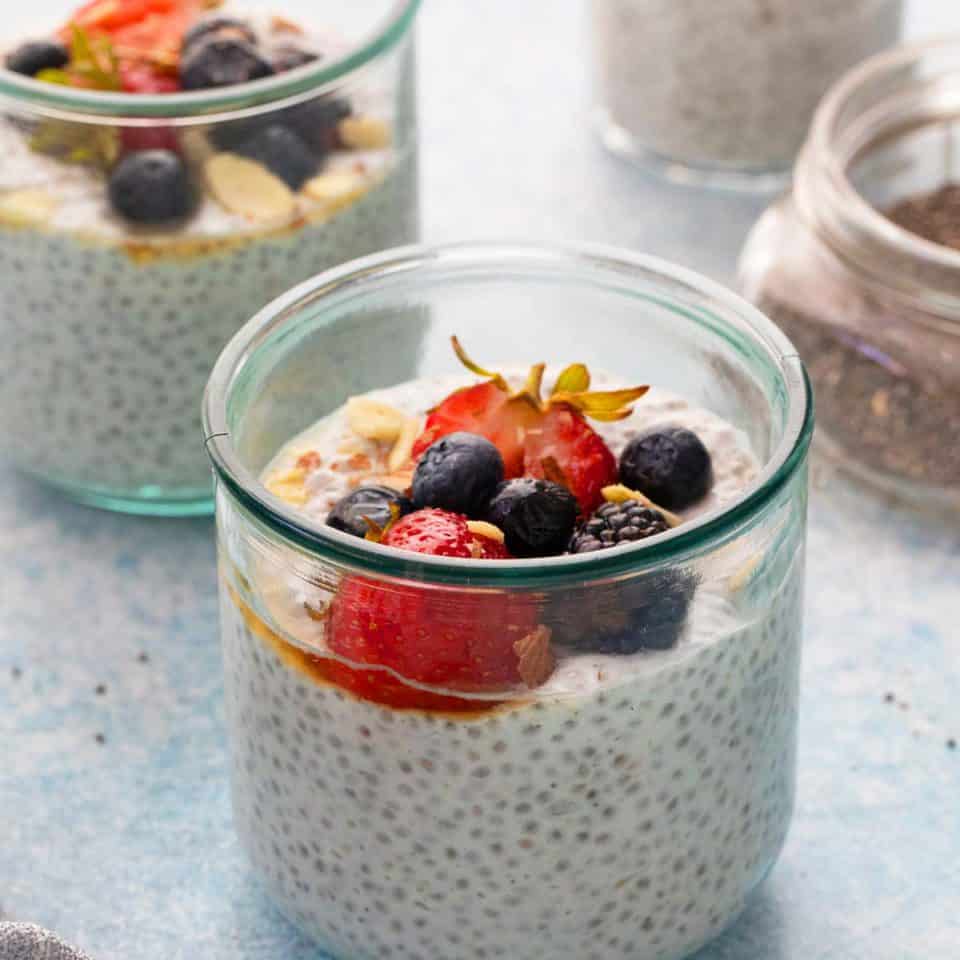 Coconut Chia Pudding
Coconut Chia Pudding is thick, creamy and tasty! It is healthy, high in fiber and makes a perfect breakfast, dessert or snack.
Print
Pin
Rate
Instructions
Add all ingredients into a large mason jar and mix until thoroughly combined. Let sit for 5 to 10 minutes and then stir well again.

Tip: This step will make sure that the seeds mix evenly to create a luscious pudding like texture, without any clumping.

Seal the jar and chill for at least 5 hours (or up to 4 days). Top with your desired toppings and enjoy!

Tip- Don't be afraid to salt! A scant pinch of salt makes the flavors pop and makes it taste amazing.
Notes
Cardamom – Use freshly ground cardamom instead of store bought cardamom powder. Use other flavorings – Try using other flavorings like vanilla or almond extract instead of cardamom. Use your favorite sweetener like honey or sugar. Coconut milk – Use regular or light can. Salt – A scant pinch of salt elevates the taste.
Nutrition
Serving:
1
Serving
|
Calories:
407
kcal
|
Carbohydrates:
31
g
|
Protein:
6
g
|
Fat:
32
g
|
Saturated Fat:
22
g
|
Polyunsaturated Fat:
8
g
|
Sodium:
20
mg
|
Fiber:
8
g
|
Sugar:
17
g
Nutritional information is based on third party calculations, should be considered estimates and not be construed as a guarantee. Varying factors such as product types, brands purchased, produce, the way ingredients are processed and more change the nutritional information in any recipe.
Did you make this recipe? I'd love your feedback! Please let me know by leaving a comment or review below or snap a photo and share on Instagram.
All contents and images are my original work, unless and otherwise mentioned. Please do not use my recipes or images without linking back to www.kitchenathoskins.com. If you wish to republish a recipe, please rewrite in your own words and don't forget to include a link back to the original recipe.
Some of the links above are affiliate links, which pay me a small commission for my referral at no extra cost to you! I am a participant in the Amazon Services LLC Associates Program, an affiliate advertising program designed to provide a means for us to earn fees by linking to Amazon.com and affiliated sites. Thank you for supporting kitchenathoskins.com.