This Roasted Makhana or fox nuts makes a healthy, crispy, flavorful and addictive snack. They are baked in the oven or air fried for a quick and easy bite.
As an Amazon Associate and member of other affiliate programs we earn a small commission from qualifying purchases through our affiliate link. For more information read our Non-Disclosure Agreement.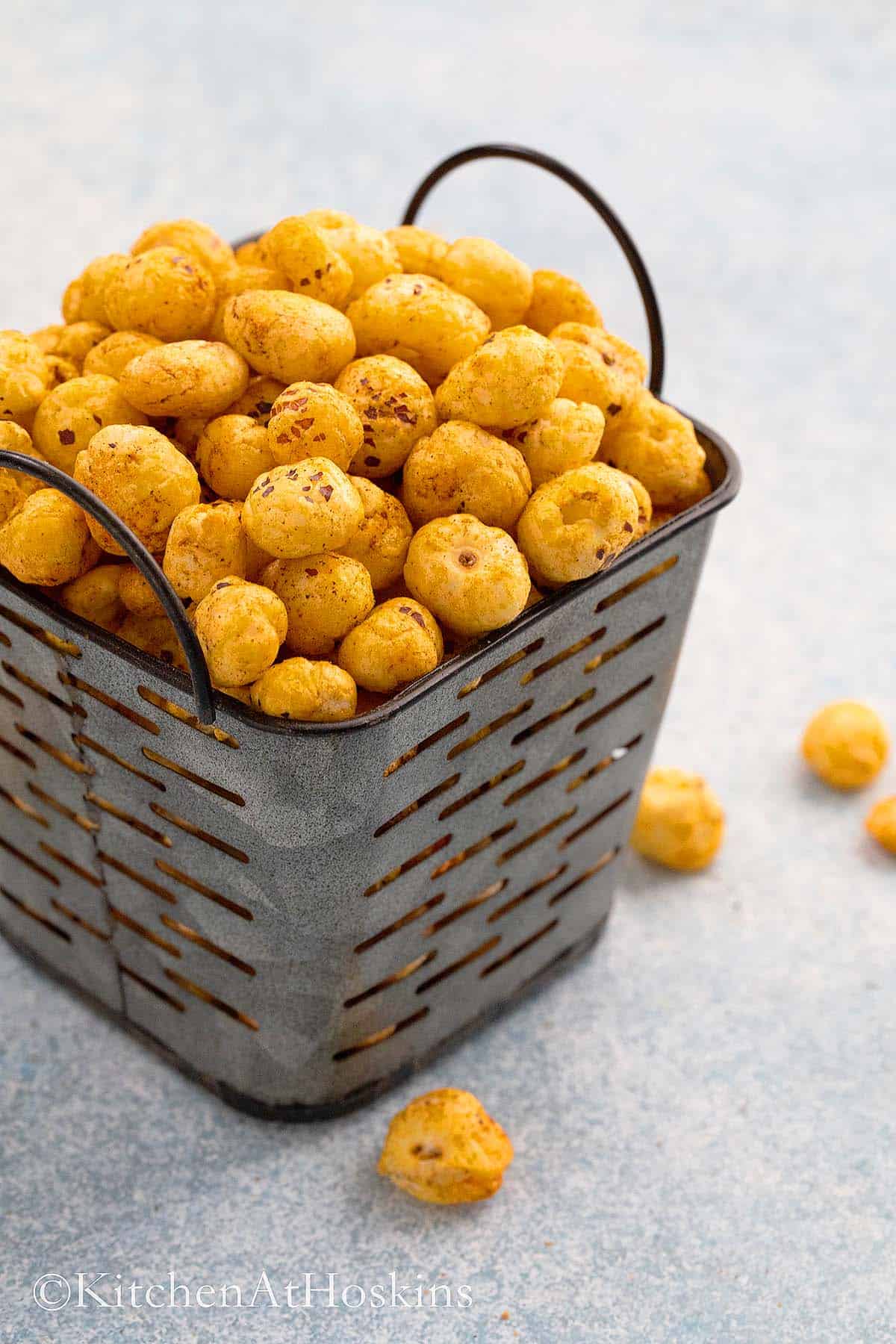 Roasted Makhana
Guilt free snacking at it's best! It is crispy, crunchy, bite sized, spicy with numerous health benefits. Try this for movie time with your family instead of reaching for a bag of microwave popcorn, Jalapeno Dip, Cream Cheese Stuffed Mushrooms or Air Fryer Chickpeas.
What is Makhana?
Also known as phool makhana, Fox nuts, lotus seeds or Gorgon nuts, they are edible dried seeds of water lily plants. Euryale ferox is a perennial plant native to Asia, often found in northeast India and China, especially in the state of Bihar which produces 90% of the world's supply.
They are usually found sold peeled and white in color. Euryale ferox seeds are often fried or roasted in large earthen pots, which causes them to pop like popcorn. They are also used to make kheer or porridge.
Why You'll Love This Recipe?
Quick and Easy to Make - It is usually made over the stove top by slow roasting for several minutes to crisp them up. But this recipe is so easily roasted in the air fryer in just 4 minutes or 13 minutes in the oven for a hands free cooking.
Healthy Snack - These tiny seeds are loaded with nutrition like calcium, magnesium, iron, phosphorus, fiber and antioxidants.
Customizable - Season them with your favorite blend of spices or make them sweet.
Non perishable - These are great to be made ahead and stored in air tight container or zip lock bag for couple of weeks.
Dietary friendly - They are gluten free, vegan (if not using ghee), dairy free and vegetarian.
Health Benefits
It is an excellent source of several important nutrients including calcium, magnesium, iron, and phosphorus. They also contain specific antioxidants like gallic acid, chlorogenic acid, and epicatechin.
Adding lotus seeds to your diet is a great way to boost your intake of protein and fiber which may benefit weight loss. They are also low in calories and is filling making it perfect when dieting. In India, it is generally during fasting or vrat.
How Do I Know They Are Done Roasting?
Raw seeds are soft, chewy and hard to chew. Perfectly roasted seeds are crunchy to bite and should not stick to your teeth. Try tasting one as soon as you remove from the oven or air fryer. If it is not crunchy all the way through then try roasting or air frying for an additional minute or two.
Why Did The Makhana Soften?
Let them cool completely for a few hours. Storing them even when slightly warm might loose it's crispness.
Make sure to store in a tightly sealed air tight container or zip lock bag.
INGREDIENTS
Makhana - They can be easily found in Indian grocery stores or Amazon.
Oil - Use vegetable oil, olive oil, melted coconut oil or ghee.
Seasonings - We used basic Indian seasonings like turmeric powder, cayenne pepper powder, salt and chaat masala.
VARIATIONS
There are endless possibilities to season these little seeds. Here are a few ideas:
Oil - Use melted coconut oil, ghee, olive oil or vegetable oil.
Basic - Simple sea salt and ground black pepper.
Italian - Black pepper, red pepper flakes, Italian seasoning and salt.
Mexican - Use homemade taco seasoning.
Mint - Finely crushed dried mint leaves, lemon salt and black pepper.
Salt and vinegar - Use salt and vinegar powder.
Sour cream and onion - Use store bought sour cream and onion seasoning powder.
HELPFUL TIPS
Larger batch - Double the recipe to make a larger batch. (If air frying, then make sure to cook in batches).
Air Fryer used - The seeds tend to pop in the basket when cooking. We used Instant vortex 6 quart air fryer which was perfect for cooking 2 cups.
Seasoning - Use your favorite seasoning.
How To Roast?
Toss phool makhana with oil, salt and spices until evenly combined.
To Bake in Oven - Transfer them to a baking sheet and bake in a pre heated 300 degree oven and bake for about 13 to 14 minutes or crisp.
To Air fry - Preheat air fryer to 300 degrees. When hot, transfer the seasoned makhana into the basket and air fry for about 4 minutes until crisp.
Optional finish - Transfer back into the bowl and toss some oil and chaat masala for a lip smacking taste.
How To Store?
Let them cool completely to room temperature and then store in an air tight container or zip lock bag (away from any moisture) for up to 2 weeks. Any slight moisture will soften them.
FREQUENTLY ASKED QUESTIONS
How long to store?
If stored in a dry container with no moisture then it stays crisp for up to 2 weeks.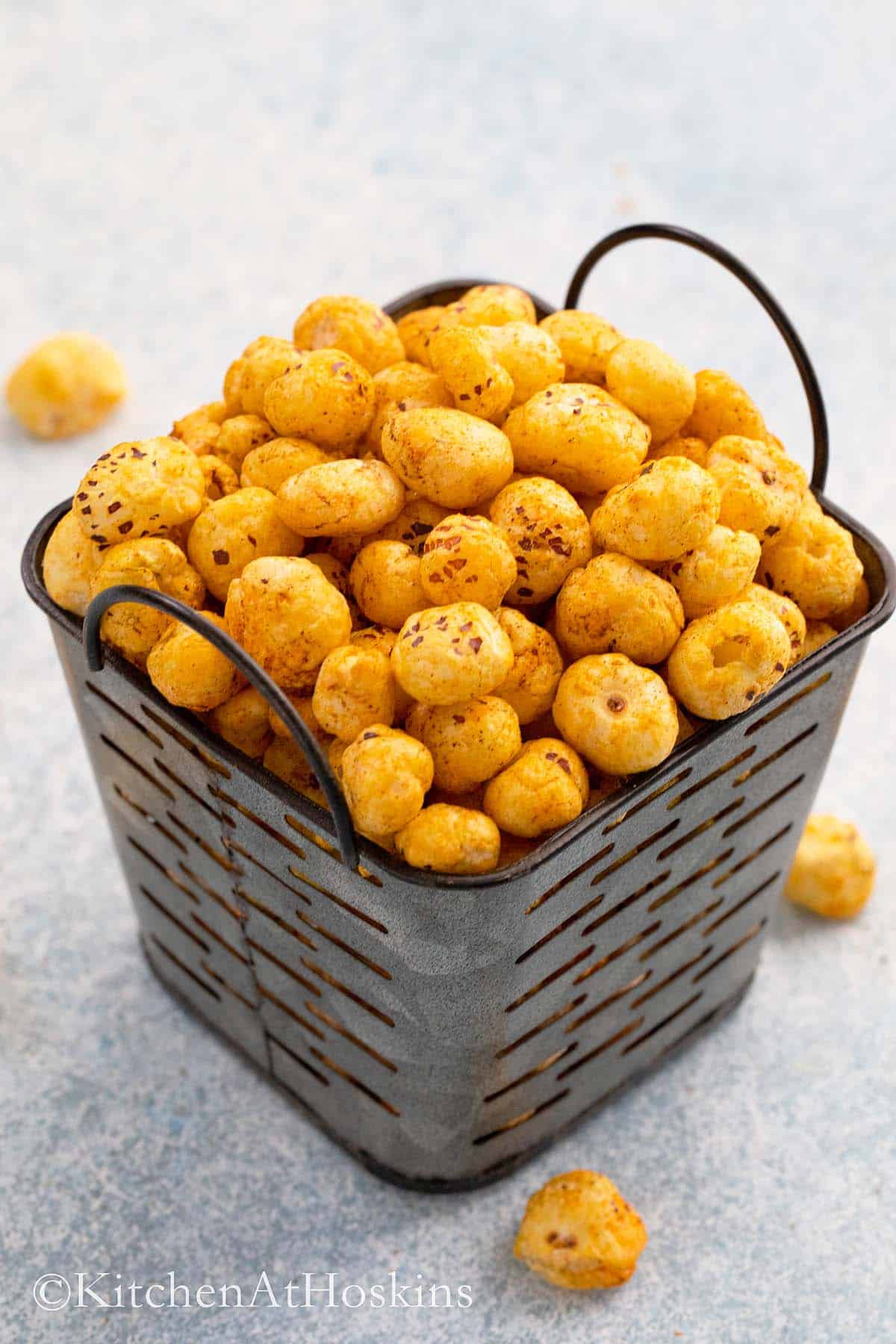 If you try this recipe or any other recipe from Kitchen At Hoskins, please take a minute to rate the recipe and leave a comment below. It helps others who are thinking of making the recipe. And if you took any pictures, be sure to share them on Instagram so I can share them on my stories.
More Spicy Snacks to try: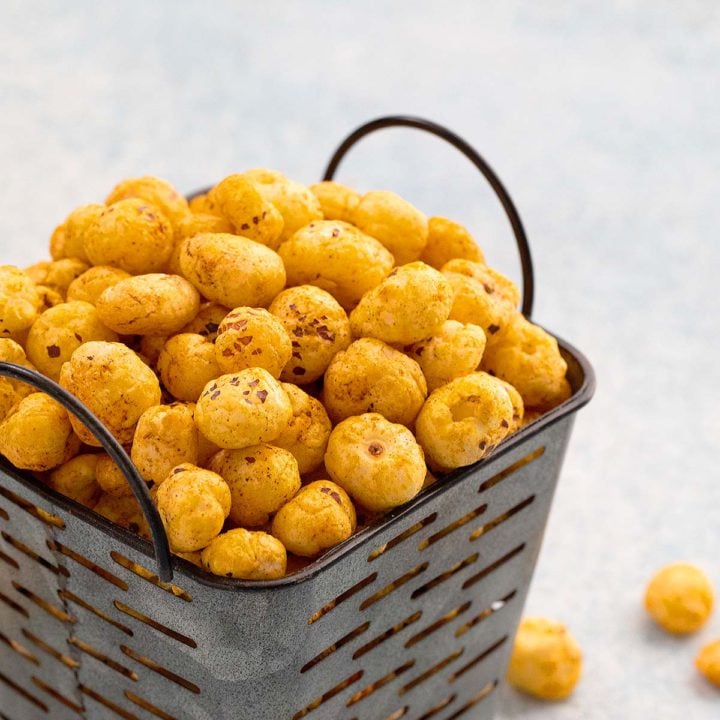 Oven Roasted Makhana
This Roasted Makhana or fox nuts makes a healthy, crispy, flavorful and addictive snack. They are baked in the oven or air fried for a quick and easy bite.
Ingredients
1 tablespoon + 1 teaspoon oil, divided
¼ to ½ teaspoon salt (use according to taste)
¼ to ½ teaspoon cayenne pepper powder ( red chili powder),
⅛ teaspoon turmeric powder
Instructions
1. Pre heat oven to 300°F (148°C) OR your air fryer (same temperature).
2. Add fox nuts or phool makhana, 1 tablespoon oil, salt, cayenne or red chili powder and turmeric powder into a large bowl and mix well with a spoon until evenly combined. (save the bowl for later use)
3. Transfer to a baking sheet and bake for 13 to 14 minutes or becomes crisp. (To cook in air fryer - transfer combined nuts into the hot air fryer basket and cook for about 4 minutes or crisp).
(Try tasting one as soon as it comes out of the oven or air fryer. It should be crunchy and not stick to the teeth. If not, bake for an addional 2 minutes or air fry for one minute).
4. Transfer hot nuts back into the bowl, toss with remaining 1 teaspoon oil and chaat masala (if using). The oil helps chaat masala stick to the seeds.
Serve as soon as they cooled down completely or store in an air tight container for a few days
Notes
Oil - Use vegetable oil, olive oil, melted coconut oil or melted ghee.
Air Fryer used - The seeds tend to pop in the basket when cooking. We used Instant vortex 6 quart air fryer which was perfect for cooking 2 cups.
Nutrition Information:
Yield:

2
Serving Size:

1
Amount Per Serving:
Calories:

25
Total Fat:

3g
Saturated Fat:

0g
Trans Fat:

0g
Unsaturated Fat:

2g
Cholesterol:

0mg
Sodium:

529mg
Carbohydrates:

1g
Fiber:

0g
Sugar:

0g
Protein:

0g
I am not a certified dietician or nutritionist. The information is a product of online calculator such as Nutrifox.com, although Kitchen at Hoskins attempts to provide accurate nutritional information, these figures should be considered estimates and not be construed as a guarantee. Varying factors such as product types or brands purchased, produce, and the way ingredients are processed change the nutritional information in any recipe. Furthermore, different online calculators provide different results depending on their fact algorithms. Under no circumstances will Kitchen at Hoskins be responsible for any loss or damage resulting for your reliance on the nutritional information. To obtain the most accurate nutritional information in a given recipe, you should calculate the nutritional information with the actual ingredients used in your recipe, using your preferred nutrition calculator. You are solely responsible for all decisions pertaining to your health and ensuring that any nutritional information provided is accurate.
Follow me on INSTAGRAM, TIK TOK, FACEBOOK or PINTEREST for more delicious recipes.
Some of the links above are affiliate links, which pay me a small commission for my referral at no extra cost to you! I am a participant in the Amazon Services LLC Associates Program, an affiliate advertising program designed to provide a means for us to earn fees by linking to Amazon.com and affiliated sites. Thank you for supporting kitchenathoskins.com.
All contents and images are my original work, unless and otherwise mentioned. Please do not use my recipes or images without linking back to www.kitchenathoskins.com. If you wish to republish a recipe, please rewrite in your own words and don't forget to include a link back to the original recipe.