Amazing Fluffy Glazed Donuts - This supremely popular doughnut recipe is Super Soft, Light, Airy and sinfully addictive - As light as biting into a cloud!!
As an Amazon Associate and member of other affiliate programs we earn a small commission from qualifying purchases through our affiliate link. For more information read our Non-Disclosure Agreement.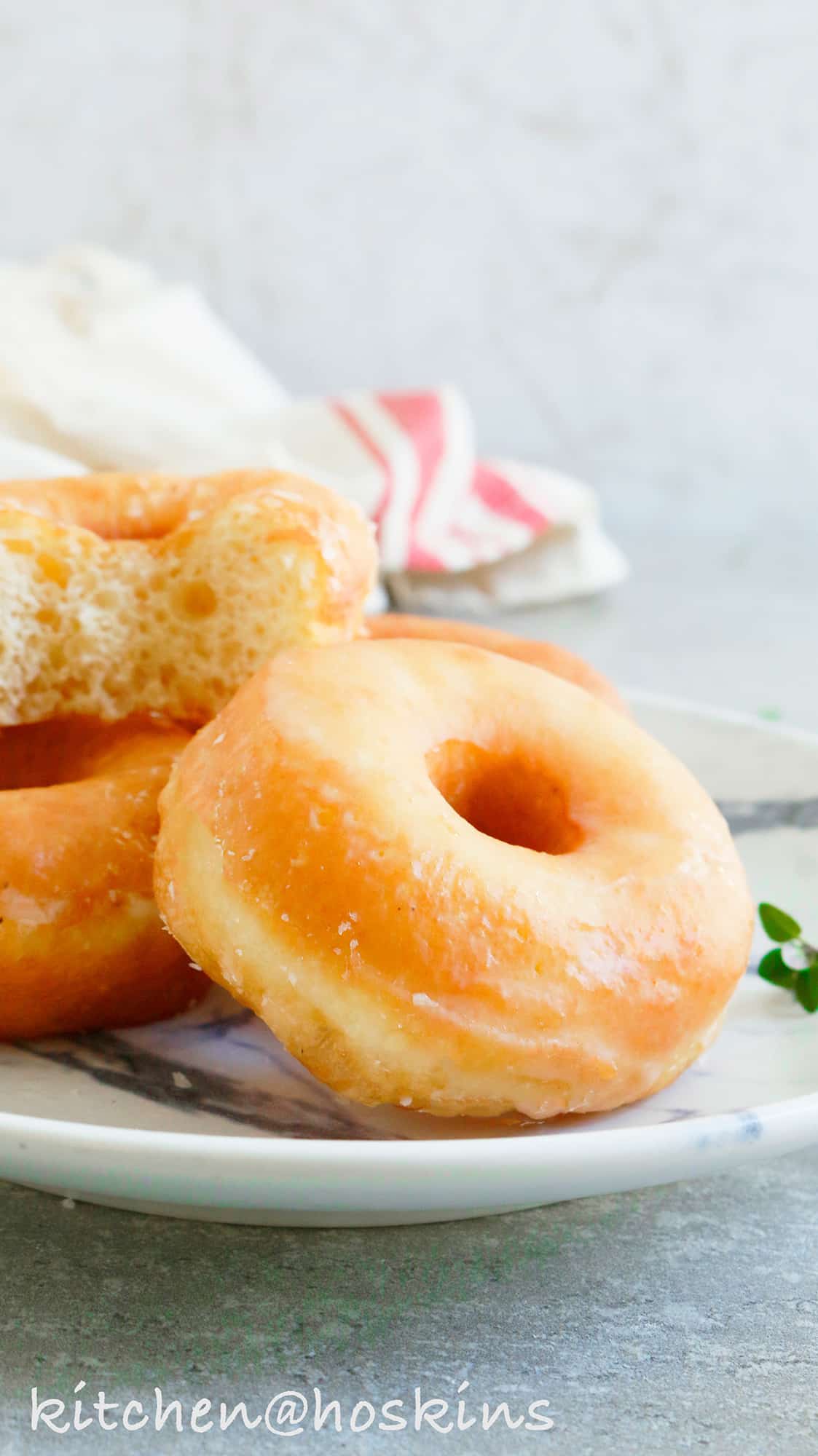 Fluffy Glazed Donuts Recipe
Is there anything better than hot deep fried dough that's just insanely soft, made from scratch and with real, natural ingredients? I don't think so! These are truly the best glazed doughnuts you will ever make at home! ALMOST as good as Krispy Kreme. Yes, really!
Krispy Kreme is by far our favorite doughnuts! They are absolutely to die for! Unfortunately, the closest Krispy kreme location is about 32 miles away from our home. So, I had to come up with a recipe to satisfy or cravings!
They are actually better than any store bought glazed options. Yep, they're THAT good. They practically melt in your mouth when you take a bite and even though they do take a bit of time, it's so worth it!
The best part about this recipe is that it requires only regular pantry ingredients. Nothing that will need a trip to the store.
This is one of the best doughnut recipe ever!! I've made it countless times, ranks in the first page on Mr.Google and many have made it with huge success, in-spite of the not-so-good pictures.
Why will you love this recipe?
Soft, Light, Airy, Fluffy
Fried to Golden perfection
Easier than you think
It's like biting into a cloud
Made with pantry ingredients
Simple vanilla glaze
Supremely Popular recipe
Few of our reader feedbacks
"Tried out your recipe today and it was absolutely delightful. So light and fluffy, ever so slightly crispy exterior and really flavorful even though I didn't use the nutmeg. Anyone leaving a bad comment here definitely did something wrong along the way. It's fab, thank you!"
"Awesome just made the donuts without nutmeg and they are like the donuts back home in Texas"

"I made these today and got rave reviews! Then I forgot to save it to Pinterest! So after searching the internet for nearly an hour….Yay!…I fond it! Saved to Pinterest….even started a donut board with this as the first one posted! They turned out perfect. The key is following exactly as the recipe is printed"
"I am a huge Krispy Creme doughnuts, buy I live in Brazil! I've been trying several recipes until this (very last) one. Today was the 5th time I mixed the dough (by hand). Result is always fluffy and airy doughnuts. Since I am from Spain, I have compared the spices and I prefer to infuse the milk wit crashed cardamon seeds and I filter them out. Depending on how many people we are, I sometimes freeze the doughnuts after the second rise due to superb Sunday treats for lazy rainy days. Thank you for this great récipe"
"Omg!!!! This recipe was awesome!!! The donuts were so light, fluffy and soft!!! First time I made them. They were just perfect 😍 I will be looking at more of your recipes"
Donuts or Doughnuts?
Doughnut is the original spelling in the early 1800s. The word "DONUT" is an American variant, that seemed to have appeared in the late 1800s but gained popularity after the Massachusetts-based chain Dunkin' Donuts was introduced.
Secret to the fluffiest doughnuts
The secret is in the right proportion of ingredients and the SPONGE. Traditionally used in sour dough bread making, it a bubbled mixture of flour and wet ingredients that is very sticky. The two-step process of forming gluten allows to create the base for an airy texture just like a homemade bread.
Can I make without a stand mixer?
These doughnuts are best made with a stand mixer for that amazing soft and fluffy texture. However, if you wanna try making by hand, then try mixing for about 5 minutes (using a wooden spoon) in step-1 and another 5-6 minutes in step-2.
Can I shape without a cutter?
Sure can! Use a 3-inch round cookie cutter (a wide mouth canning ring would also work) and the fat end of a large piping tip to cut the holes.
What is the best oil temperature for frying?
The best temperature is 330-340 degrees F. If you own a deep fry thermometer then this is great time to use. Hotter oil will get the outside brown fast before the doughnuts have a chance to rise fully in the oil. Cooler oil will make absorb more oil. Medium heat is perfect!
Do a test - Add a small round ball - it should take about a minute on each side to get golden. Adjust heat accordingly.
Does the active dry yeast require more rise time than instant yeast?
I have not tried this recipe with instant yeast. However, the general rule is if that if a recipe calls for 1 ¼ teaspoons of active dry yeast, use 1 teaspoon of instant yeast.
Does the yeast not have to be proofed separately?
When working with active dry yeast, you don't have to proof it separately. It works just as well however you will have to make sure the temperature of ingredients are exactly as mentioned in the recipe.
What is the best oil for frying?
We love all neutral oils like vegetable oil, canola oil or sunflower oil, as they are neutral in flavor and have a high smoke point. Peanut oil works great as well, if there are no allergy issues. If you use an oil with a low smoke point, the oil will burn as the fat breaks down, imparting an unpleasant taste.
Glaze variations
Chocolate - Add 1 to 2 tablespoons of cocoa powder when you add the powdered sugar. You might need to increase the water by a bit too to form a smooth glaze.
Sprinkle - Stir in fine colored sprinkles into the glaze.
Maple - Replace vanilla extract with maple flavoring.
Flavorings - Use orange zest, bourbon or rum instead of vanilla.
Pro Tips for Success
Soft dough equals soft doughnuts - given measurements will create a soft, sticky dough. Do not be tempted to mix in more flour, it will work out at the end. Trust me on this.
Oil temperature - Magic temperature is 330-340 degrees F. Hotter will get the outside brown fast before the doughnuts have a chance to rise fully in the oil. If you own a deep fry thermometer then this is great time to use. If not, medium heat is perfect and test one doughnut - it should take about a minute on each side to get golden. Adjust heat accordingly.
Color, color, color - PALE GOLDEN and not any darker. Letting the doughnut brown will form a crusty outside (delicious tho) but not the light texture we are aiming for.
Measure flour correctly - Adding too much flour to the recipe is the most common mistake and will make your glazed donuts dense. The best way to measure -fluff your flour with a spoon, sprinkle it into your measuring cup, and use a knife to level it off.
Don't overcrowd the oil - Avoid adding too many at once into the oil as the increase in donuts will lower the oil's temperature. They will also need room to expand, and it's easier to flip when there's space.
Why are they not fluffy?
There could be several reasons for this - Yeast not fresh, dough did not rise enough, oil was too hot or more than needed flour.
Key ingredients
Milk - whole milk if possible. We are making perfect yeast doughnuts, ain't a calorie counting day:)
Butter - unsalted room temperature butter. If using salted then reduce salt accordingly
Yeast - active dry yeast, make sure that the yeast is fresh
Eggs - room temperature eggs are a must since cold eggs might not help the yeast rise and in turn will affect the outcome
Flour, Sugar & Salt - Unbleached (if possible) all purpose flour, Plain white sugar, salt
Nutmeg - DO not buy pre ground nutmeg. Buy whole nutmegs and grate fresh for all recipes that require ground nutmeg. It makes a huge difference.
How to make?
Make the dough
Step-1 Make a sponge- The secret in making a fluffy crumb! This method is usually adopted in making making Asian style breads that is very light and airy. Add milk, butter, yeast, eggs, sugar, salt, nutmeg and only 2 cups of flour into a stand mixer and mix to create a very, VERY soft sticky dough thingy (refer picture below)
Step-2: Add remaining flour and knead to a soft dough, using the dough hook. The dough should stick to the bottom and little bit to the sides. This is due to high moisture content and this is essential in creating a best homemade doughnut recipe (refer picture below)
Firm, not sticky dough <--- dense, hard doughnuts
Soft, sticky dough <-- Soft fluffy donuts
Step-3: Let dough rise for about 1 and ½ hours, until doubled in volume (refer picture above). Find the warmest spot in your kitchen - A sunny window / near the stove top, if you are cooking / in a 90 degree F oven.
Shape the dough
Step-4: Dump the dough onto a floured kitchen counter, Roll ½ inch to ¾ inch thick, dusting the top with flour as well. Cut doughnut shapes and place on floured cookie sheets. Cover with a clean kitchen towel and place again in the same warm spot for about 30-60 minutes, until they almost double in size (refer pictures below- Left : cut doughnut / Right : risen doughnut)
Fry
Step-5: Deep fry doughnuts on moderate heat, until pale golden on both sides. Drain on paper towel (refer pictures below)
Easy Glaze
Step-6: Stir confectioners sugar, water, salt and vanilla extract, until you get the perfect consistency. Dip the tops or both sides in glaze and place on a wire rack for glaze to set.
Frequently asked questions from readers:
Can these donuts be baked instead of fried?
I'm sorry the answer is NO!! This recipe works only for deep frying.
I don't have fresh nutmeg, can it be skipped or use pre ground nutmeg?
If you don't have whole nutmeg, then you can totally skip it. But, store bought ground nutmeg does not come anywhere close to freshly grated nutmeg.
Can I cut the recipe in half to make less donuts? Or is it going to affect the end result of the donuts?
You could totally do that but, the only problem is that half the recipe is too less for the stand mixer. Otherwise, it does not affect the result in any way.
Can use self-raising flour instead of all purpose flour? 
Self raising flour has rising agents (like baking powder/baking soda) in it, So, this will NOT WORK when combined with yeast.
Can these be made in an air fryer?
This recipe has not been tested in an air fryer.
How to store leftovers?
These doughnuts are absolutely best when fresh!
However, UNGLAZED donuts can be refrigerated in an air tight container for up to 4 days (warm in the microwave for few seconds before eating).
GLAZED donuts can be stored in a sealed container at room temperature for about 1 day.

More copy cat recipes to try-
Follow me on INSTAGRAM, TIK TOK, FACEBOOK or PINTEREST for more delicious recipes.
Super Soft Glazed Doughnuts
Light, fluffy, airy, soft glazed doughnuts!!! These may just be the best homemade doughnuts you will ever make and they are sinfully addictive!
Print
Pin
Rate
Ingredients
1 and ½

cups

milk, lukewarm (whole milk or 2%)

1

stick

unsalted butter ( ½ cup ), room temperature

4 and ½

teaspoons

active dry yeast

3

large

eggs, room temperature

6

tablespoons

sugar

1 and ½

teaspoons

salt

1

teaspoon

freshly grated nutmeg

5 cups + ¼ cup + 2 tablespoons

all purpose flour, divided

additional flour for dusting
Instructions
To make doughnuts
Combine first 7 ingredients (milk through nutmeg) and 2 cups all purpose flour in the bowl of your stand mixer. Beat on medium speed with a flat beater for 2-3 minutes (dough will look like slightly curdled cake batter).

Add remaining all purpose flour ( 3 cups + ¼ cup + 2 tablespoons ) and switch to a dough hook, knead on medium speed for additional 3 minutes (dough will be very soft).

Remove bowl from the mixer, scrape the sides of the bowl and cover bowl with a clean kitchen towel and place in the warmest spot in your kitchen. Let dough rise for about 1 ½ hours or until doubled in size.

Dust working surface liberally with all purpose flour, Dump dough and dust flour on top. Gently roll into ½ to ¾th inch thick, cut circles with a doughnut cutter ( if you don't have one, then use a 3-inch circle cookie cutter and with a small cookie cutter in the middle of each doughnuts, to make the holes). You can cut more holes out of the scraps.

Place doughnuts and holes on two lightly floured cookie sheets, spacing about an inch apart. Cover with a kitchen towel, let rise again for 45 - 60 minutes.

Line a large baking sheet with paper towels and place a wire rack on top.

When ready to fry, add vegetable oil in a large dutch oven until comes to about 2-inches height. Place over medium high heat until 330 to 340 degrees (use a deep fry thermometer , refer notes if you do not own one). Deep fry about 4 doughnuts at a time (do not overcrowd the pan), until golden brown on both sides (45-60 seconds per side). Remove doughnuts onto the cooling rack.

Repeat until all doughnuts and holes have been fried.
Glaze doughnuts
In a medium bowl, whisk all glaze ingredients until smooth. Begin by adding 5 tablespoons water and then a touch more if glaze seems thick.

Working with one doughnut at a time, dip one side of each doughnut into the glaze and return to the wire rack.

Let glaze set for about 20 minutes before serving. We never wait that long around here:)
These soft glazed doughnuts are best eaten hot!!! However, to enjoy them later (not more than a day) microwave one doughnut for 7 seconds.
Notes
Luke warm milk - An easy way to check without a thermometer- sprinkle few drops of water on the inside of your wrist. It should neither feel hot nor cold. 
Nutmeg

, gives the classic doughnut shop flavor to the doughnuts. Do not use nutmeg powder, grate freshly with a microplane or a fine grater.
During cooler days, I adopt the oven method to rise the dough : Set oven temperature to 170 degrees F (or the lowest that your oven can go to). As soon as the oven begins to heat, let it warm up for 20-30 seconds (don't let it go to 100 degrees). Turn off oven and place the bowl inside and let rise until doubled. If oven reaches 100 degrees or higher, leave the oven door open for a minute or two to cool down a touch before keeping the dough
Oil temperature

 – magic temperature is 330-340 degrees F. Hotter will get the outside brown fast before the doughnuts have a chance to rise fully in the oil. If you own a deep fry thermometer then this is great time to use. If not, medium heat is perfect and test one doughnut – it should take about a minute on each side to get golden. Adjust heat accordingly. 
Nutrition
Serving:
1
donut
|
Calories:
462
kcal
|
Carbohydrates:
67
g
|
Protein:
4
g
|
Fat:
15.2
g
|
Saturated Fat:
39.02
g
|
Polyunsaturated Fat:
13
g
|
Monounsaturated Fat:
8.1
g
|
Cholesterol:
30
mg
|
Sodium:
172
mg
|
Potassium:
21
mg
|
Fiber:
1
g
|
Sugar:
73
g
|
Vitamin C:
0.01
mg
|
Calcium:
1
mg
|
Iron:
0.1
mg
Nutritional information is based on third party calculations, should be considered estimates and not be construed as a guarantee. Varying factors such as product types, brands purchased, produce, the way ingredients are processed and more change the nutritional information in any recipe.
Did you make this recipe? I'd love your feedback! Please let me know by leaving a comment or review below or snap a photo and share on Instagram.
All contents and images are my original work, unless and otherwise mentioned. Please do not use my recipes or images without linking back to www.kitchenathoskins.com. If you wish to republish a recipe, please rewrite in your own words and don't forget to include a link back to the original recipe.
Some of the links above are affiliate links, which pay me a small commission for my referral at no extra cost to you! I am a participant in the Amazon Services LLC Associates Program, an affiliate advertising program designed to provide a means for us to earn fees by linking to Amazon.com and affiliated sites. Thank you for supporting kitchenathoskins.com.