Avocado Chocolate Mousse - Made using avocado, dates, cocoa powder and milk, it's rich, creamy, silky smooth and decadent!
We love using dates to make healthy treats. Some of our favorites include Chocolate Date Balls, Date Caramels, Date Smoothie or Date Nut Bars.
As an Amazon Associate and member of other affiliate programs we earn a small commission from qualifying purchases through our affiliate link. For more information read our Non-Disclosure Agreement.
Avocado Chocolate Mousse
Hands down, one of the healthiest dessert recipes you'll evert make (like this No-Bake Brownie Bites or Almond Butter Balls). Generally avocado mousse recipes are made using chocolate chips, however this recipe is made without chocolate chips, eggs or coconut cream. But it tastes so decadent, sinful that you can enjoy without any guilt and feel good about it.
While traditional chocolate mousse is is made of heavy ingredients and is high maintenance. This recipe is made using 4 good for you ingredients and blended easily on your food processor.
Why You'll Love This Recipe?
Texture - Medjool dates and avocado adds a velvety smooth, thick and creamy texture without any cream.
Tastes decadent - It's so rich and chocolatey and tastes utterly decadent.
Amazingly healthy - Made using wholesome, natural and healthy ingredients with no refined sugar.
Quick and Easy - Just blend all ingredients, chill and serve.
Make ahead dessert - We recommend making it ahead and chilling in the fridge for a few hours or overnight before serving. So, this is a great make ahead dessert to satisfy a sweet craving anytime.
WHAT DOES IT TASTE LIKE?
The obvious question is can you taste the avocado? NO! You will certainly not notice the flavor as it blends itself along with remaining ingredients to make a chocolatey treat.
Ingredients and Health Benefits
Avocado - With 20 different vitamins and minerals, these are one of the nutrient dense fruits you'll find in the super market. They are also high in potassium and is loaded with heart healthy monounsaturated fatty acids and dietary fiber.
Dates - Although high in calories, these are considered as a super food due to it's high iron content. They contain several vitamins and minerals, fiber, antioxidants, promote bone health and help in blood sugar control.
Cocoa Powder - It reduces inflammation, increases blood flow and reduces stress levels. It is also abundant in flavanols and polyphenols, which have potent antioxidant and anti-inflammatory effects.
Milk - Loaded with calcium, protein, phosphorous and vitamin D, adding milk to you everyday diet may prevent osteoporosis and bone fractures.
Can I Make In A Blender?
Sure can! Make sure to add all ingredients including milk to help with the blending process. A high powered blender like vitamix will come handy. Also, another helpful tip is to warm the milk and let the dates soak in the warm milk for about 30 minutes to soften them. Add everything to the blender and blend away!
Can I Use Noor Dates instead of Medjool?
We highly recommend using the soft Medjool variety to make a velvety smooth mousse! However, if you want to use the Noor variety, then make sure to soften them before blending.
To soften, heat half a cup of milk until hot and pitted noor variety into it, cover and let it sit for about 30 minutes. This breaks down the fiber and softens them making it easier to blend.
Adjust The Recipe
This is one of those recipes that you can totally adjust to suit your taste -
Add more cocoa powder to make it deep, dark chocolatey.
Add more dates to make it more sweet.
Add less milk to get a thicker consistency.
LET IT REST
LET IT CHILL BEFORE EATING - It helps for the flavors meld together and develop. Also, it gets thicker and more mousse like texture. So, we recommend chilling overnight before diving in!
INGREDIENTS
This recipe is very simple and uses everyday nutritious ingredients to make. Here is what you'll need:
Avocados - Select a ripe Hass avocado which is high in fat and much more creamier than other varieties. Fibrous or watery fruits will not make a tasty dessert. Make sure they are really ripe so that they are easy to blend with the other ingredients. (A few spots or bruises won't hurt anyone either, making it a great way to use slightly overripe fruits)
Dates - We used soft, plump medjool variety which makes it very creamy. Refer notes to use Noor variety.
Cocoa Powder - Use a richer, less acidic tasting cocoa powder. Look for label "processed with alkali." or dutch processed.
Milk - We used regular whole milk. But, plant based ones like almond or cashew milk will work.
Vanilla. Balances and smooths out the flavors and elevates to a rich dessert. Use the real thing and not the artificially flavored stuff.
Salt. Just a pinch to enhance the flavors and bring everything together. Don't skip!
HELPFUL TIPS
Make it vegan - Use dairy free milks like almond or cashew milk.
Is it gluten free - Yes, this recipe is naturally gluten free.
Don't add milk first - Process dates with avocado first into a puree before adding the milk to get a smooth and creamy consistency.
Chill - We recommend chilling for at least 6 hours or up to 2 days to help it thicken and the flavors blend.
Use ripe avocados - A good ripe fruit but not over ripe Hass fruit will yield a creamy mousse.
Dates - Try to use medjool variety for an ultra creamy texture.
Adjust recipe - Feel free to add more or less of any ingredient to suit your taste.
TOPPING IDEAS
Although this is delicious as is, a few toppings will make it look more fancy. Here are a fee suggestions:
Whipped cream or whipped coconut cream
Fresh berries like raspberries or sliced strawberries
Shaved or chopped chocolate (like the photos)
Toasted and chopped nuts like hazelnuts or sliced almonds
Fresh mint leaves adds a pretty finish without any effort
Flakes of coarse sea salt
HOW TO MAKE?
This is one of most easiest and healthy recipes that you'll make. Here is a quick over view of the process but feel free to scroll down for detailed instructions. Process all ingredients (except milk and vanilla) until finely ground. Add milk and process until very smooth and creamy. Chill and dig in!
HOW TO SERVE?
This is excellent just as it is. If you want to get fancy, you can top it with whipped cream, berries, chocolate shavings and a mint leaf.
Storage Tips
To Store. The mousse can be stored in the refrigerator, tightly covered, for up to 4 days.
To Freeze. You may free the mousse in a freezer-safe container for up to 1 month. Defrost overnight in the refrigerator before serving.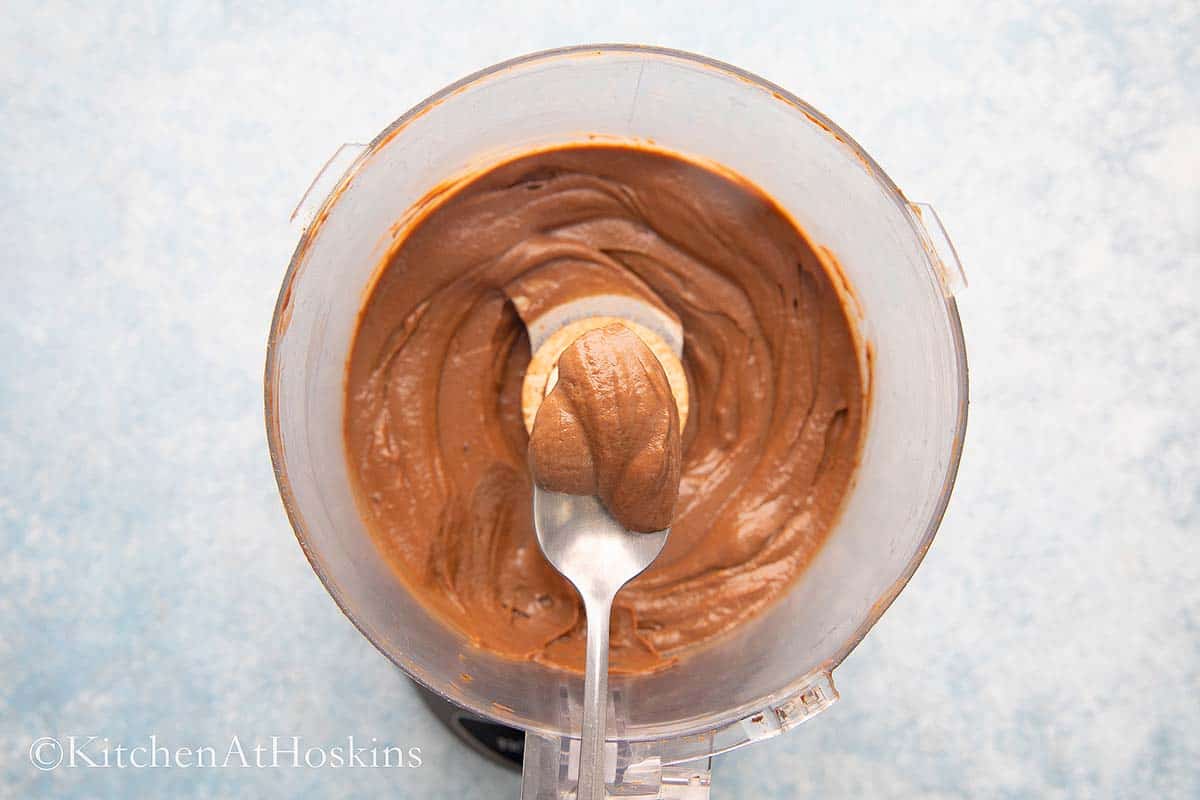 FREQUENTLY ASKED QUESTIONS
Can you freeze?
You can store the mousse in the freezer for up to 1 month. Thaw in the refrigerator overnight before serving.
How long can you keep in the fridge? 
Leftovers should be stored in the refrigerator for up to 4 days. Any longer, and you'll find that it begins to taste a touch bitter due to the avocado. 
Does this taste like avocado?
No! The taste in undetectable. The dates, vanilla and cocoa masks the flavor and you end up tasting a luxurious decadent dessert.
More Chocolate Avocado treats to try:
Follow me on INSTAGRAM, TIK TOK, FACEBOOK or PINTEREST for more delicious recipes.
Avocado Chocolate Mousse using Dates -Healthiest!
Avocado Chocolate Mousse - Made using avocado, dates, cocoa powder and milk, it's rich, creamy, silky smooth and decadent!
Ingredients
1 avocado
½ cup milk
1 pinch salt
Equipment used
Instructions
1. Remove seeds from dates and add into a food processor along with avocado and cocoa powder. Process until finely ground.
2. Scrape sides and then add milk, vanilla extract and salt. Process until very smooth and creamy.
3. Spoon into a container (or serving bowls), cover and refrigerate for at least 6 hours or up to two days. Serve!
Notes
Weight - We used 6 large Medjool dates for this recipe. It was 4 ounces by weight (with seeds) and 3.6 ounces by weight (without seeds).
Don't add milk first – Process dates with avocado first into a puree before adding the milk to get a smooth and creamy consistency.
Chill – We recommend chilling for at least 6 hours or up to 2 days to help it thicken and the flavors blend.
Dates – Try to use medjool variety for an ultra creamy texture.
Adjust recipe – Feel free to add more or less of any ingredient to suit your taste.
Nutrition Information:
Yield:

2
Serving Size:

1
Amount Per Serving:
Calories:

413
Total Fat:

17g
Saturated Fat:

3g
Trans Fat:

0g
Unsaturated Fat:

12g
Cholesterol:

5mg
Sodium:

103mg
Carbohydrates:

69g
Fiber:

13g
Sugar:

52g
Protein:

6g
I am not a certified dietician or nutritionist. You are ultimately responsible for all decisions pertaining to your health. This information is provided as a courtesy and should not be construed as a guarantee. This information is a product of online calculator such as Nutrifox.com.. Although Kitchen at Hoskins attempts to provide accurate nutritional information, these figures should be considered estimates. Varying factors such as product types or brands purchased, natural fluctuations in fresh produce, and the way ingredients are processed change the nutritional information in any given recipe. Furthermore, different online calculators provide different results depending on their fact sources and algorithms. Under no circumstances will Kitchen at Hoskins be responsible for any loss or damage resulting for your reliance on the nutritional information. To obtain the most accurate representation of the nutritional information in a given recipe, you should calculate the nutritional information with the actual ingredients used in your recipe, using your preferred nutrition calculator. You are solely responsible for ensuring that any nutritional information provided is accurate, complete, and useful.
Did you make this recipe? I'd love your feedback! Please let me know by leaving a comment or review below or snap a photo and share on Instagram.
All contents and images are my original work, unless and otherwise mentioned. Please do not use my recipes or images without linking back to www.kitchenathoskins.com. If you wish to republish a recipe, please rewrite in your own words and don't forget to include a link back to the original recipe.
Some of the links above are affiliate links, which pay me a small commission for my referral at no extra cost to you! I am a participant in the Amazon Services LLC Associates Program, an affiliate advertising program designed to provide a means for us to earn fees by linking to Amazon.com and affiliated sites. Thank you for supporting kitchenathoskins.com