Zucchini Lemon Muffins are incredibly soft, light and fluffy! Loaded with grated zucchini, flavored with both lemon zest and juice, this is a small batch recipe of 6 muffins. Simply the BEST!!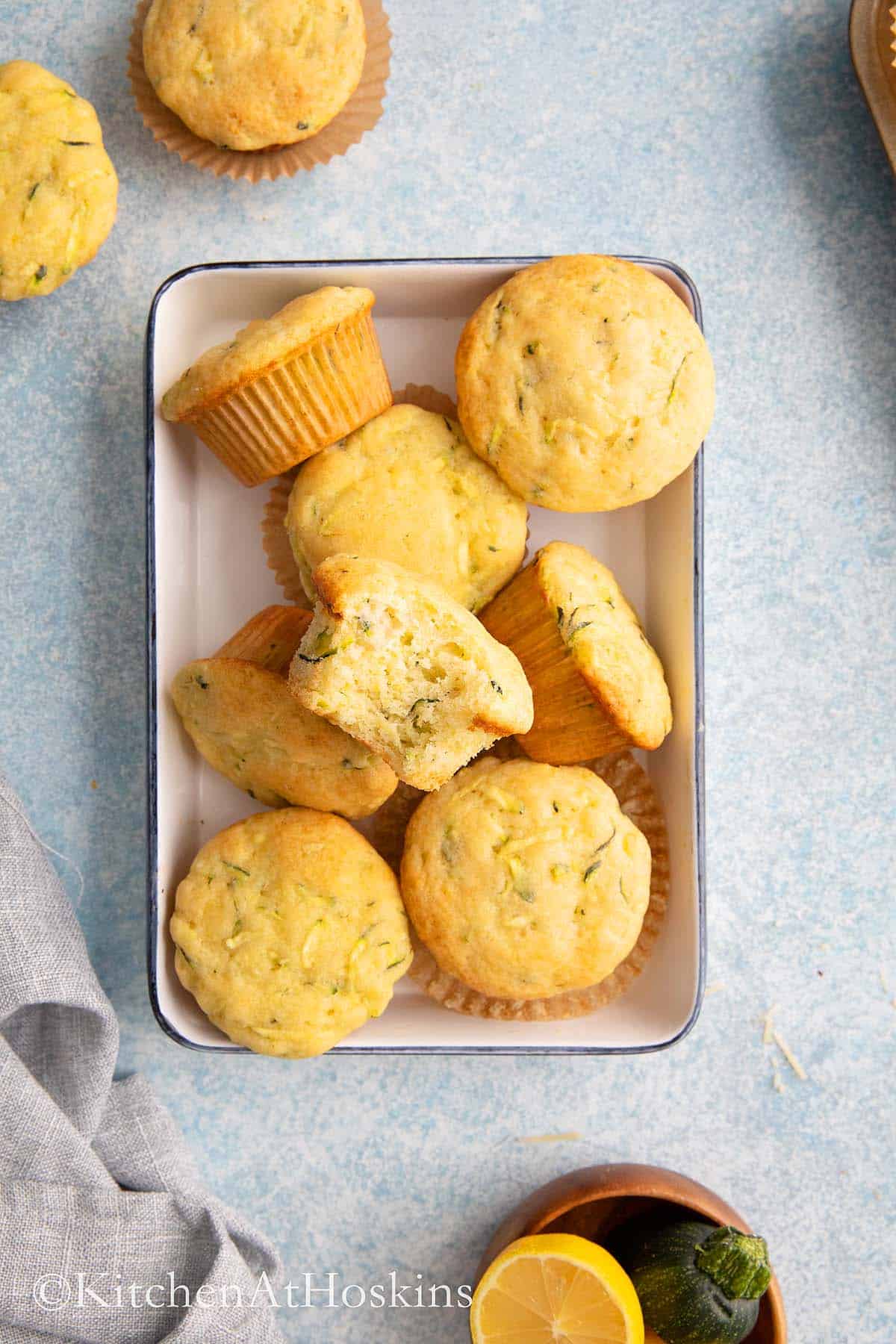 Zucchini Lemon Muffins
It's zucchini season and we are bringing you a bunch of recipes using with humble summer squash. Have you tried this zucchini frittata or this gluten free zucchini fritters?
A light, soft, fluffy muffin recipe with lemon zest, juice and loads of freshly grated zucchini. Made with yogurt, vegetable oil and made without butter, this is a delicious muffin thats a must try! These are so good that it can be easily served as a cup cake topped with your frosting (this cream cheese frosting would be perfect).
They are easy to make, hand-held, pre-portioned, convenient, portable treats for any time of day and the kiddos love them for breakfast, snack or light dessert after dinner.
They are a great way to take advantage of fresh summer produce, and they're easy to stash in the freezer for a later date like this eggless banana muffins recipe.
Why are you going to love this recipe?
Soft, Light and Fluffy - This is my idea of texture perfection! They so soft and light almost like biting into a cup cake! The grated squash, yogurt, oil and lemon juice keeps everything moist.
Easy to make - No mixers required, just two bowls.
Freezer friendly - These baked treats are not iced, glazed or frosted making it a great option to freeze. I like to make a double batch in summer and freeze for later use.
Easy way to eat vegetables for breakfast - They are made with one full cup of grated vegetable for just 6 muffins! It's a great way to enjoy a serving of vegetable.
Small batch - This recipe makes a small batch of 6 muffins making it a perfect way to use that one zucchini you have around.
Are they healthy?
Let's begin with saying baked goods made at home ARE better for you than the packaged goods you buy at the store. Why? Well, because homemade goods are made with no preservatives and you are in control of the ingredients.
These muffins are made with few healthy ingredients like yogurt, zucchini (also known as courgette) and lemon. You get all the vitamins, minerals and anti oxidants contained in the squash that you wouldn't get from, say, a chocolate chip version.
To Squeeze not to Squeeze?
Squashes can vary considerably in their moisture content. If they are garden picked, they are likely to have a lot of moisture whereas the off season ones from the market, might be on the drier side.
Some recipes call for squeezing out most of the moisture, but this recipe calls for not squeezing, saving one additional step.
Perfect for picky eaters Baked goodies with vegetables are great delivery vehicles for veggies that even picky eaters will love. You can't taste the vegetable because it takes on the flavor of the vanilla flavored batter.
To peel or not to peel?
You do not need to peel the zucchini first! The peel adds a pretty color contrast to the golden lemon color with specs of green. The skin is so thin that it will not add an unpleasant, tough texture to the baked goods. The skin also increases the nutrition and fiber like in apple cinnamon muffins.
Can I double to recipe?
Absolutely! Simple double the recipe and bake in a standard 12-cup cupcake pan. Enjoy some fresh and freeze for later use.
Do they need to be refrigerated?
I wouldn't recommend refrigerating because they can dry out in the refrigerator. The best part of this recipe is that it makes a small batch of only 6 muffins. So, it gets over in one or two days at our home. If you have leftovers, then store them in a sealed air tight container for up to 3 days at room temperature.
How to freeze?
In general, all muffins freeze beautifully and these are no exception. Once they are cooled, place them in a freezer bag and freeze for up to 2 months. Leave at room temperature overnight to thaw. You might want to make a double batch so you always have some baked treats on hand! It's perfect when you are craving something sweet, have unexpected company or quick snack for kids' lunch box.
Ingredients
Here's what you'll need to make this recipe:
Zucchini - Of course! You'll need 1 cup shredded from about 1 medium squash.
Lemon - We use both the zest and juice to pack a lemony punch.
Flour - Regular unbleached all purpose flour.
Yogurt - Plain yogurt or refer recipe notes to use greek yogurt.
Leavening - Both baking powder and baking soda is used.
Oil – It adds richness and enhances the amazing moist texture. Use a neutral-tasting oil, such as vegetable oil or sunflower oil.
Salt - To make all the flavors pop.
Egg - You'll need one egg to help with binding and ensure the muffins bake properly.
Find the complete recipe with measurements below.
Pro Tips for Success
Don't wring out the zucchini. Many courgette recipes tell you to squeeze out the moisture. Not this one! Here, we want all that moisture to go into the cake making them really amazingly soft and tender ----> Yum!
Use greek yogurt - Use 3 tablespoons of plain greek yogurt plus 1 tablespoon water instead of regular yogurt.
Measure the flour correctly. Too much flour can cause baked good to be dry and crumbly. Spoon it into a dry measuring cup and level off the top with the straight side of a butter knife.
Do NOT over-mix batter. Stir the wet and dry ingredients together by gently stirring them together and mix just until moistened. Over-mixing the batter can produce tough cake.
Don't over bake - Ovens can vary so be sure to check a few minutes before they should be done. They are done baking when you insert a toothpick into a pastry and it comes out clean.
Flavorings - We use lemon zest and juice for a natural citrus flavor and it does not have vanilla extract or cinnamon.
Shredding Zucchini: I love to use a box grater because it's easy to use and grates quickly.
How to make?
This is super easy to make! Here's how it goes:
Whisk dry - Whisk together flour, baking powder, baking soda and salt together in small bowl.
Whisk wet - Whisk together egg, sugar, yogurt, oil, lemon juice and zest for about a minute, until sugar has dissolved and it looks smooth. Stir in coarsely grated courgette.
Finish and Bake - Mix in dry mixture until just combined. Divide batter evenly into 6 paper lined cupcake pan and bake at 350 degrees for about 25 minutes.
Variations
Stir in poppy seeds.
Top with your favorite vanilla or cream cheese frosting.
Use lime zest and juice instead.
Stir in chopped nuts.
Top with a glaze.
Add a crumb topping
How to serve?
These are absolutely delicious by itself or amazing split open spread with a dab of good salted butter. If you want to amp up the citrus flavor then you could top the pastry with a drizzle of citrus glaze (mix confectioners sugar, zest and juice together to form a thick glaze).
Make them for breakfast or snacks, and you won't regret it! This might be a simple recipe, but it makes the absolute best treat. Grab some summer-fresh zucchini and give them a try!
Frequently asked questions
Do I need to refrigerate?
No, they don't have to be refrigerated, these are perfect stored at room temperature.
How long to bake?
At 350°F, they need to bake for around 25 minutes.
What can I add?
Chopped nuts, poppy seeds or blueberries will be a great addition.
Can I make this into a bread?
Sure can! Just transfer the batter into a standard loaf pan and bake at 350 degrees.
Follow me on INSTAGRAM, TIK TOK, FACEBOOK or PINTEREST for more delicious recipes.
Zucchini Lemon Muffins
Zucchini Lemon Muffins are incredibly soft, light and fluffy! Loaded with grated zucchini, flavored with both lemon zest and juice, this is a small batch recipe of 6 muffins. Simply the BEST!!
Print
Pin
Rate
Ingredients
Items used
Dry ingredients
1

cup

all purpose flour

¼

teaspoon

+ ⅛ teaspoon baking powder

¼

teaspoon

baking soda

¼

teaspoon

salt
Wet ingredients
1

egg

large

½

cup

sugar

white

¼

cup

plain yogurt

¼

cup

vegetable oil

1

tablespoon

+ ½ tablespoon lemon juice

Zest of ½ large lemon

or 1 small

1

cup

coarsely grated zucchini

about 1 medium
Instructions
Pre heat oven to 350°F and line a standard muffin pan with 6 paper liners.

Add all dry ingredients into a small bowl and whisk to combine.

Add all wet ingredients except zucchini into a large bowl and whisk until smooth (about 1 minute). Stir in grated zucchini and then the dry ingredients, until just combined (don't over mix).

Divide batter evenly into the prepared muffin pan and bake for 23 to 25 minutes or until a tooth pick inserted in the middle comes clean.

Place pan on a wire rack to cool, enjoy!
Notes
Don't wring out the zucchini. Many zucchini recipes tell you to squeeze out the moisture. Not this one! Here, we want all that moisture to go into the cake making them really amazingly soft and tender —-> Yum! Use greek yogurt – Use 3 tablespoons of plain greek yogurt plus 1 tablespoon water instead of regular yogurt. Make 12 muffins - Simply double the recipe to make 12 muffins.
Nutrition
Serving:
1
muffin
|
Calories:
338
kcal
|
Carbohydrates:
47
g
|
Protein:
5
g
|
Fat:
15
g
|
Saturated Fat:
2
g
|
Polyunsaturated Fat:
11
g
|
Cholesterol:
42
mg
|
Sodium:
243
mg
|
Fiber:
1
g
|
Sugar:
26
g
Nutritional information, based on third-party calculations, should be seen as estimates, not guarantees, as various factors like product types, brands, processing methods, and more can alter the nutritional content in recipes.
Did you make this recipe? I'd love your feedback! Please let me know by leaving a comment or review below or snap a photo and share on Instagram.
All contents and images are my original work, unless and otherwise mentioned. Please do not use my recipes or images without linking back to www.kitchenathoskins.com. If you wish to republish a recipe, please rewrite in your own words and don't forget to include a link back to the original recipe.
Some of the links above are affiliate links, which pay me a small commission for my referral at no extra cost to you! I am a participant in the Amazon Services LLC Associates Program, an affiliate advertising program designed to provide a means for us to earn fees by linking to Amazon.com and affiliated sites. Thank you for supporting kitchenathoskins.com.