Vegan, gluten free, dairy free and no added sugar! Made with carrot, dates, banana, oats, walnuts and spices, these ridiculously healthy carrot oatmeal cookies are my solution when a cookie craving strikes. Healthy breakfast carrot cookies for the win!!!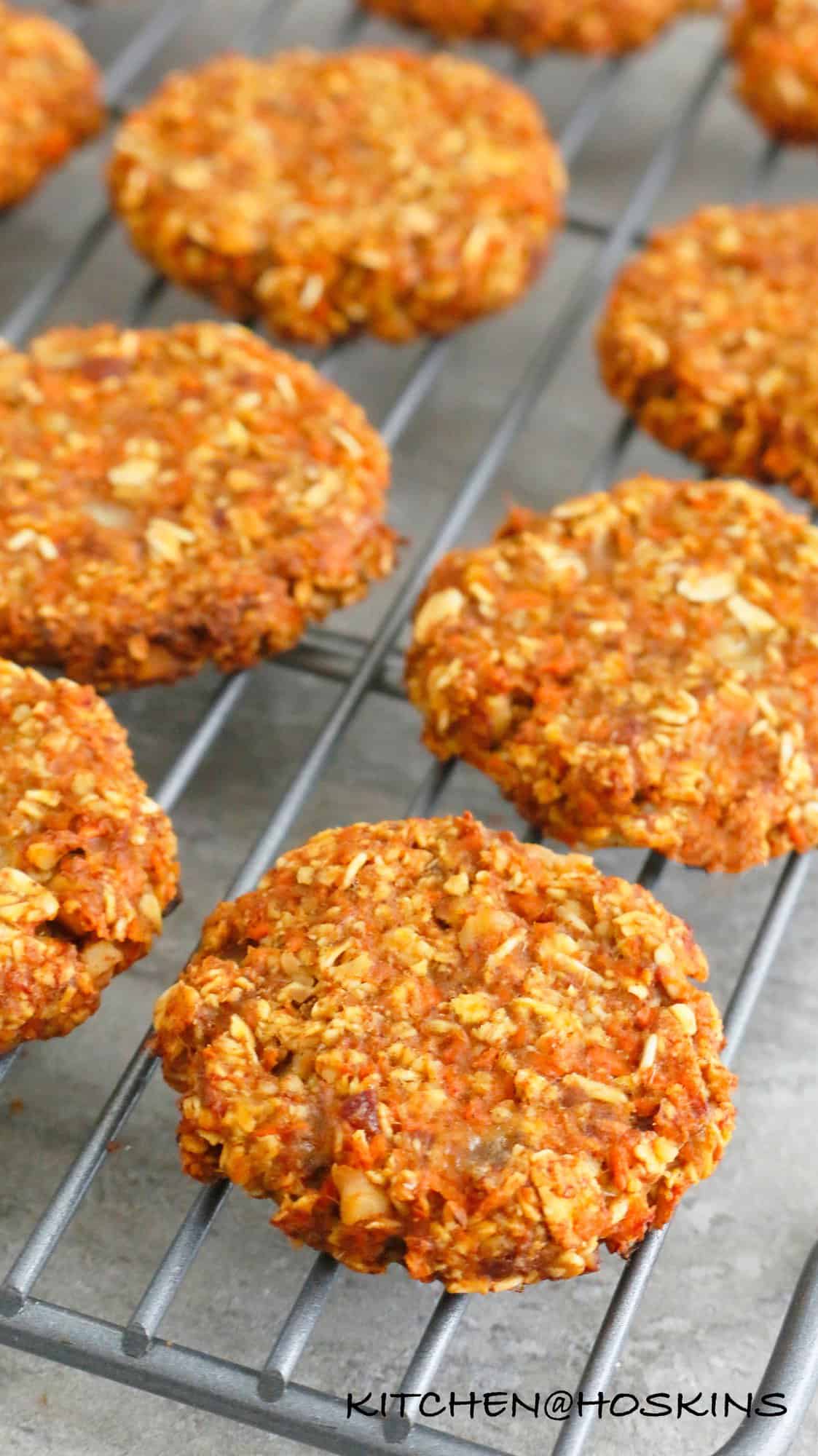 Ridiculously healthy carrot oatmeal cookies.
Carrot. Banana. Dates. Oats. Walnuts. Spices.
Thats it, Nothing else. No flour, no butter, no oil, no sugar.
These healthy breakfast carrot cookies are not-to-sweet, flavorful, soft, chewy and so darn healthy.
Why are these banana carrot oatmeal cookies gonna be you go-to healthy cookie recipe when your cookie craving strikes?
Vegan
Gluten Free
Dairy free
Paleo
Easy
Wholesome ingredients
No-added sugar
Healthy
Feel good
Let us take a look at the team players in making these banana carrot cookies:
Carrot : Peel and chop one medium carrot into large chunks.
Dates : These are two types of dates generally found in grocery stores – Soft, plump Medjool dates and drier, chewier Deglet noor . I used 3 large Medjool dates (pitted) for the recipe. If you love dates, then try this another super healthy snack —> Raw Date and Nut Salami
Banana: Since the cookies depend only on dates and banana for sweetness, you want a banana that is ripened really well, like the kind you no longer want to eat.
Oats: Old fashioned oats only. Not quick cooking or steel cut.
Walnuts: You may try using pecans instead.
Spices: Cinnamon, ginger and Nutmeg. Try to use freshly grated nutmeg since it makes a huge difference in the carrot banana cookies.
Let us get to the process of making these healthy carrot oatmeal cookies:
Step-1: Process carrot and dates until coarsely ground.
Step-2: Add chopped banana, oats, walnuts and spices, pulse 5-6 times, until it is coarsely ground.
Step-3: Shape into cookies, bake at 375 ° F, until deep golden around the edges.
Let cool completely.
Done and DONE.
How can we enjoy this banana oat date cookies?
Snack,
Breakfast ( Cookies for breakfast? Totally! Especially when they are loaded with real wholesome ingredients like these carrot breakfast cookies)
Packed into school / work lunch box as a healthy treat.
Healthy dessert
I have a huge sweet tooth. Can I make this vegan carrot oatmeal cookies sweeter?
Absolutely. Stir some confectioners sugar, a pinch of salt and a touch of water to make a very thick (but pourable) icing. Using a spoon, drizzle a bit of icing all over the cookies (after it has cooled completely). Let the icing set for at least 30 minutes to 1 hour. Enjoy !
Of course, icing the healthy carrot cookies does not make them ridiculously healthy. Does it?
Tips and tricks in making the banana carrot cookies:
Use a very ripe banana
Use soft Medjool dates
Use only old fashioned oats
Try using toasted pecans or sliced almonds instead of walnuts
Try using spices your favorite spices.
This healthy carrot oatmeal cookies are a variation from my Ridiculously healthy Oatmeal Cookies
More cookie recipes:
Almond Flour Chocolate Chip Cookies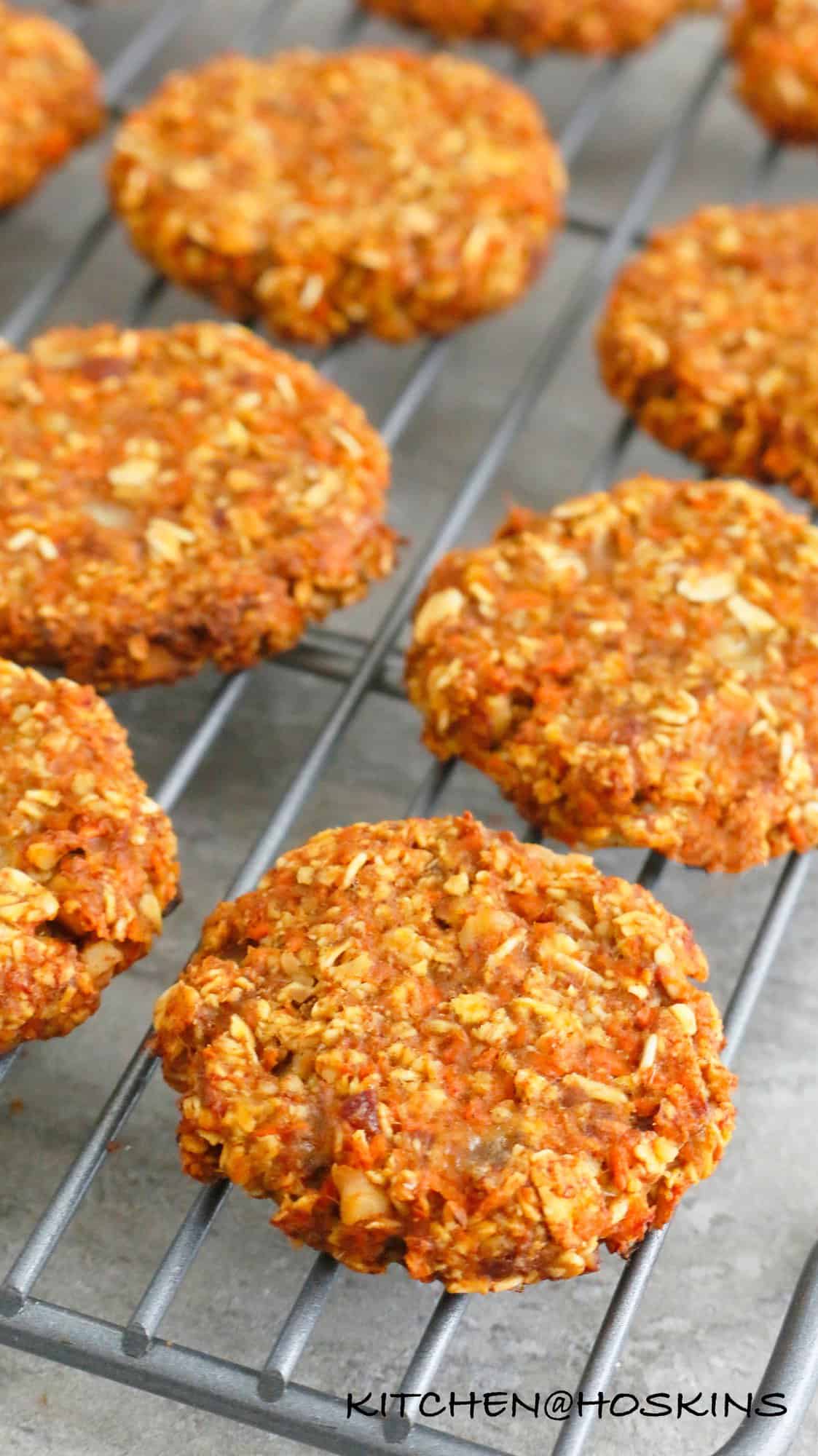 Some of the links above are affiliate links, which pay me a small commission for my referral at no extra cost to you! Thank you for supporting kitchenathoskins.com
All contents and images are my original work, unless and otherwise mentioned. Please do not use my recipes or images without linking back to www.kitchenathoskins.com. If you wish to republish a recipe, please rewrite in your own words and don't forget to include a link back to the original recipe.